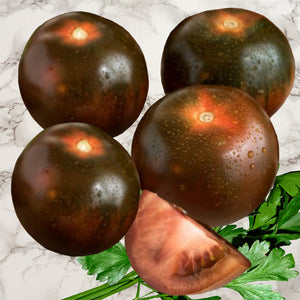 PRODUCT DETAILS
Black Prince tomatoes have a deep red skin, while their flesh can range from deep red to brown. These 5 oz tomatoes are sweet, low in acid and take 80 days to reach harvest. They are indeterminate, meaning they will continue to produce fruit throughout the growing season.
Originating from Siberia, this rich, garnet colored tomato thrives in colder climates, making it an excellent choice for northern regions. In national tomato taste tests, the Black Prince tomato has consistently ranked among the top ten varieties, showcasing its exceptional flavor and quality.
PLANT INFORMATION:
Plant Name:
 Tomato Black Prince
Genus:
Lycopersicon Esculentum
Plant Type:
Indeterminate, Open polinated, Heirloom 
Hardiness:
Tender
Fruit Size:
 Medium / 5 Oz

Color:
 Deep red to brown
Plant Height: 6 ft. (1.8 m)
Germination:
7- 21 days
Maturity:
80 days from transplant
Soil Type:
pH acid, neutral and basic (alkaline) soils.
Plant Spacing: 24-36 in. (60-90 cm)
Package includes: Tomato Black Prince 50 Seeds 
PLANTING GUIDE:
Growing tomatoes from seed takes about 6 to 8 weeks from sowing to transplanting.
- Sow seeds indoors ¼" deep.
- Keep the temperature range 70 to 80F.
- Germination: 7-14 Days
- Keep soil moist, but not soggy while awaiting germination. Moderate watering slightly once seedlings break through the soil.
- Plant Outdoors: 24-36" apart. Harden off plants before transplanting.
- Plant outdoors in full sun when the soil is warm. Tomatoes need at least 8 hours of direct sun daily.
Tomatoes are sensitive to freezing temperatures, so wait to transplant outdoors until the soil is warm. 

SHIPPING INFORMATION
Processing time 2-5 business days.

Estimated delivery time 3-9 days (depending on your location).
&nbsp
We're so sure that you will love our products here at Gardening Plants & Flowers, that we offer a 100% Satisfaction Guarantee. If you have any issues with your order, simply email us at support@gardening-plant.com and we'll do our GUARANTEED BEST to make things right for you.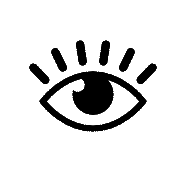 Was able to get these seeds starting in my Aerogarden and even succeeded in just using some clay pebbles with a paper towel as the grow medium! Very excited to try out the final tomatoes!!
Very good germination rate have not gotten any tomatoes yet but looking forward to them
These tomatoes are much more productive than regular tomatoes and easy to grow
They didn't germinate so great but I'd still buy them again!