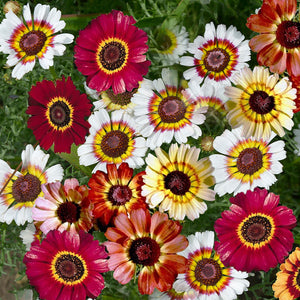 PRODUCT DETAILS
Start your garden off with a splash of color by planting Chrysanthemum Carinatum Rainbow Mix seeds! These Chrysanthemums come in a stunning array of hues, including purple, orange, scarlet, rose, salmon, yellow, and white. They make for an eye-catching display and also serve as lovely cut flowers to brighten up your indoor spaces. Unlike some other flower seeds, Chrysanthemum seeds are easy to germinate. Simply plant them in well-draining, moist soil and provide full sun. Ensure good drainage during the winter months for optimal growth.
PLANT INFORMATION: 
Plant Name: Chrysanthemum Rainbow Mix
Taxonomy:
Chrysanthemum Carinatum
Light Preferences:
Full sun
Soil Type:
Moist, well-drained, pH 5.5 to 7
Package includes:
 Chrysanthemum Rainbow Mix 100 Seeds
PLANTING GUIDE:
Temperature: 68F
Germ Time: 14 - 28 days
Light Required: Yes
Depth: 1/16 inch
Sowing Rate: 2 seeds per plant
Moisture: Keep moist until germination
Plant Spacing: 18 inches

If you live in an area with a short growing season and want to grow Painted Daisies, you should start the seeds indoors 4-6 weeks before the end of the frost season. Gently press the seeds into the starter mix and keep them moist but not too wet. After the danger of frost has passed, transplant the seedlings outside. Alternatively, if you live in a warmer climate, you can sow the Chrysanthemum seeds directly outside in a prepared seedbed once the frost season is over. Cover the seeds lightly with soil and keep them moist until they germinate. To keep the daisy plants bushy, pinch back the young plants. Regularly remove dead flowers to encourage the plants to continue blooming.
SHIPPING INFORMATION
Processing time 2-5 business days.

Estimated delivery time 3-9 days (depending on your location).
&nbsp
We're so sure that you will love our products here at Gardening Plants & Flowers, that we offer a 100% Satisfaction Guarantee. If you have any issues with your order, simply email us at support@gardening-plant.com and we'll do our GUARANTEED BEST to make things right for you.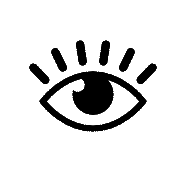 Easy to grow put them in some peat moss and a week later they sprouted right up.
I was very pleased with the product. I can't wait for them to come up and bloom.
60% germination on this pack.
I was super excited about these, but nothing has grown yet. Keeping my fingers crossed that they'll pop up sooner than later.
I covered my pots with plastic so they would stay moist without having to water them every day and it sped up the germination process.