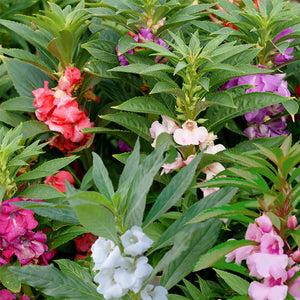 PRODUCT DETAILS
Impatiens is a genus of flowering plants in the family Balsaminaceae, commonly known as balsam or jewelweed. It is a popular garden plant, valued for its profuse and long-lasting blooms in shades of pink, red, and purple.
The leaves are typically green and slightly toothed, and the flowers have a distinctive shape, resembling a small trumpet with a spur at the back.
Impatiens prefer well-drained soil, partial shade, and moderate watering. They are commonly used as bedding plants, container plants, and as houseplants.
PLANT INFORMATION:
Plant Name: Impatiens Balsamina
Common name:
Garden balsam, Rose balsam, Touch-me-not
Bloom Season:
 Early spring
Light Preferences:
Full sun, partial shade
Soil Type:
Loamy, moist, well-drained, 
pH a
cidic - neutral
Package includes:
Impatiens Balsamina 100 Seeds
PLANTING GUIDE:
Depth:
Cover seed lightly with topsoil after sowing
Sowing Rate:
2 -3 seeds per plant
Moisture:
Keep seeds in soil slightly moist but not wet
Plant Spacing:
 8
 - 12 inches
Most garden centers do not carry potted nursery starts of garden balsam, so people usually grow this plant from seed. Fortunately, it is a straightforward process.
If you purchase or gather seeds, they will typically sprout in as little as four days when placed in moist soil at 70 degrees Fahrenheit.
To ensure the best results, begin germinating them indoors around six to eight weeks before the anticipated final frost date, allowing about 60 days from the seedling stage to the first bloom.
Light helps the seeds germinate quickly, so avoid fully covering them with soil; instead, gently press them into a seed-starting mix. Keep the soil damp but not waterlogged.
Once outdoor soil temperatures start to increase (usually when the average nighttime temperatures reach approximately 60 degrees Fahrenheit), gradually acclimate your balsam seedlings to the outdoors for more extended periods.
Finally, when the risk of frost has passed, plant them in groups spaced approximately 1 foot apart for maximum impact.
SHIPPING INFORMATION
Processing time 2-5 business days.

Estimated delivery time 3-9 days (depending on your location).
&nbsp
We're so sure that you will love our products here at Gardening Plants & Flowers, that we offer a 100% Satisfaction Guarantee. If you have any issues with your order, simply email us at support@gardening-plant.com and we'll do our GUARANTEED BEST to make things right for you.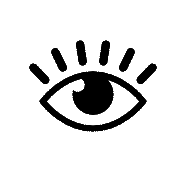 The seeds are very simple to plant.
I think every seed sprouted! Super fast germination. Recommended!
I'm so happy that I found this seeds. We love Balsams!
At first they wouldn't grow at all... I had to use plant food.. miracle grow... once I used that every two weeks.. they sprouted like crazy.. easy to maintain..
So far so good. Great seeds